Buy the DVD here. Worldwide free shipping. Secure online payment with PayPal.
We accept PayPal, Mastercard and Visa. We can also arrange other payment options on request. Please contact us for more information.
Contact us by Live Chat or email: DVD@TheSuperiorHuman.Ultraventus.info
---
Individual License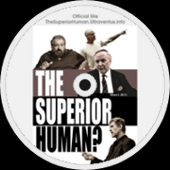 This is the standard license, suitable for individuals. Make a great addition to your home theatre!
5 Australian Dollar per Download
60 Australian Dollar per DVD
---
Organisation License
This license gives you the right to screen the movie publicly, in one institution. The license also applies to public libraries, schools, daycare facilities, parks, recreation departments, summer camps, churches, private clubs, lodges, businesses, etc.
120 Australian Dollar per DVD
100 Australian Dollar per download
---
Our PayPal address is info.JMlink@Gmail.com. The download link is usually sent to your PayPal email address within 1 hour of payment during the working hours of Australia. Shipping time is usually within ten days.
---
Whole sales please click here. You can also order from authorized Twitter @GreenFilmDwnld